Press Release – FSOS Records Promo Pool Online!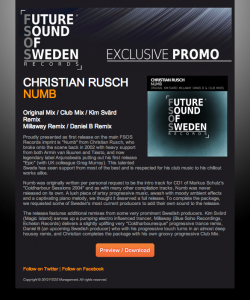 The time has come for Us to launch our promo mailings! Until the end of 2012 we are expected to release 3 releases from our main label, as well as the 3rd release is to be out on FSOS HARD. All our music will be out for promo and we have for this developed our own online promo distribution pool. First out will be the personal e-mail, where the receiver will find the artwork, additional information and the associated link to the preview/download page.
At the preview page it's required tor you to add your artist name and e-mail address, and if possibly we request for you to add radio/show/podcast data. There is a music player with all the mixes of each release as well as a matrix with high-to-low rating option and a support declaration, once submitted the download files will be made available. The goal is to get as much input data as possible from our promo subscribers so that we can make easy followups statistic with a proper foundation.
How can you get on the list? Well either you can be one to receive a personal invitation by request via E-mail, sociables or trough your mgmt or you can apply yourself. When applying we'll do a background check on scene relations and so forth to see if you fit to be in the promolist. More details are available in our sign-up form.



PLEASE NOTE: All digital music sent by/received from FSOS Records Promolist remains the property of the copyright owner. Any file sharing or copying is illegal and a breach of the terms of our service. If we become aware of any such breach of copyright we reserve the right to notify the relevant owner and cancel their subscription, as we offer our products for mutual beneficial promotion and exposer, of brand, of artists and of current sounds we hope that a mutual respect can be applied. If you are interested to join our promolist you can follow this link and apply here, but be specific and clear to simplify our work to confirm your subscribtion.