Millaway – Green Cargo EP Remixed Out Now On Beatport!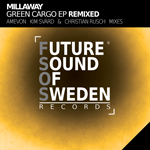 Future Sound Of Sweden is proud to present the Green Cargo Remixed EP. After the great success of Millaway's Green Cargo EP, we felt an urge to complement it with a couple of dancefloor oriented remixes. Three artists from the FSOS main roster came forward, keen to add their touch to the originals.
First out is the very talented Amevon who went as far as adding a live-recorded electric guitar to the title track, Green Cargo. Amevon raised the tempo by adding a warm rolling bassline which altogether provides for an uplifting, melodic belter (with early support from Aerofoil). Next up is Kim Svärd, known for his balearic sounds and collaboration with Roger Shah. Kim approached the track Elephant & Castle in a true harder edged one-three-eight fashion, resulting in yet another quality uplifter. Trance veteran Christian Rusch on the same path in his version of Empty Audience, adding a rolling bassline with warm plucks – creating positive energy and colorful atmosphere to the track.
If you enjoyed the originals mixes you will find these remixes absolutely mindblowing. Listeners discretion is advised! These tracks should be enjoyed loud on a crowded dancefloor for best possible experience. "Green Cargo EP Remixed" is now available for purchase exclusively on Beatport, so grab your copy here!