Millaway – Green Cargo EP Out Now On Beatport!
After releasing several remixes for our main label – the time has finally come for Millaway to claim his rightful spot in the FSOS catalogue with his very own original tracks. We are proud to present the "Green Cargo EP (2014)" including three versatile originals with a broad variety of sounds and flavours.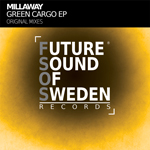 The title track 'Green Cargo' treats the listener to a lush symphony of Millaway's characteristic and refreshing sounds. The track possesses a low tempo – yet still reminds you of its uplifting elements. Atmosphere is in main focus when the breakdown finally breaks out into a melodic break beat. Beautiful chords are played while the grand piano echoes out its elegant notes. The track goes back into a short build up before finally reaching its main chorus.
'Elephant & Castle' starts out in a rough and intense sequence but evolves into something beautiful and uplifting. A piercing grand piano is introduced and a warm clean-cut lead is playing out the main melody in the breakdown. A minor key crescendo progress further into a full bloomed chorus where all instruments finally meets in harmony.
'Empty Audience' takes a different route than the first two tracks. The track is surrounded by a mysterious and dark atmosphere and driven by a rough bassline throughout the track. Melodies are introduced in the breakdown and the track morphs into a fast phased tech drop which eventually leads us back to the melodic main refrain.
All three tracks combined shapes up for an outstanding EP now available exclusively on Beatport, where everyone dedicated to trance should find their lot!