Marius Andries signs with FSOS Records™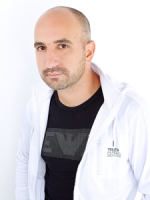 Marius Andries, who is an established Swedish producer since many years have joined the Future Sound Of Sweden™ associations main label 'FSOS Records™'. When we spoke with Marius upon signing all paperwork he said that "he is indeed very excited about getting back to work" and he told us there was great things to come!
Marius who is known from earlier alias 'Pinocchio' and formerly signed to legendary Fluid Recordings holds an impressive resumé. Exceptional at the time and today counted among Epic tracks we can find 'Da Da Da' and 'Hypnotized' whom climbed dance charts in multiple continents world wide as well as his remix work for some of the late 90′ bigger Pop/Eurodisco artists such as E-Type, Corona, 666, Vengaboyz, Solid Base and A-teens.
These are exciting time and a first release is in the making as we speak, meanwhile you can visit Marius artist page right here!