Marius Andries & Rokkaz – Pinokkaz Out Now On Beatport!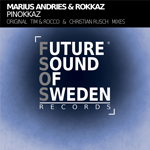 Once again Marius Andries takes helm for new and exciting collaborations, this time Marius teamed up with Swedish fullon veteran Rokkaz and they have put together something new and different. "Pinokkaz" comes with a storytelling melody and contains both psy and progressive influences combined with characteristic fullon sounds and attitude.
Breaking the silence and presenting our first release of the year "Pinokkaz" features the Original mix and remixes from both new and familiar faces.
Swedish rookie duo Tim & Rocco's remix have captured classic sounds and elements to reinterpreted "Pinokkaz" in a more Hard-Techno manner. High tempo and a solid baseline with original 303 acids keeps the atmosphere of the track in the sound of the early 90ties. Christian Rusch features a more contemporary uplifting version of "Pinokkaz" to complement the release. With intense progression, arps and chords Christian delivers a true melodic trancer as the 3rd track to seal the deal and complete this package.
Pinokkaz is now available as Beatport Exclusive! Make sure to grab your copy here!