Marius Andries – Perseid Jam Out Now On Beatport!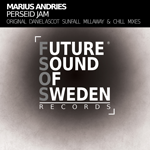 Seventh release out on main label FSOS Records is Perseid Jam! This package hold trance at it's best and is packed with no less then 3 additional remixes beside the Original and Chill mixes. 'Perseid Jam' is filled with interesting elements and build, the Original Mix has an in-the-face character with great progression and melodic intensity filled with emotions while the Chill Mix is a downtempo version without the progression and intensity.
On remix duty the FSOS007 bundle features some of our most current producers. We have Millaway (Blue Soho Recordings, Echelon Records) who added some sexy chord variations, loads of groove and intriguing detailwork which resulted in massive progressive sounds. Daniel Ascot (Lotus Music Group, Transeport Records) serves up a WAO138 melodic piece with an emotional break, does so with indeed extraordinary sounddesign and finishing up with a strong climax. And last but not least, we bring you one of the two members behind the former Swedish producer duo "Earthbound" (Fluid Records), the Sunfall remix is a great addition to 'Perseid Jam'. With a firm bassline and refreshing airy atmosphere Sunfall enters the scene and deliver a classic vibe trancer.
'Perseid Jam' is now available for purchase exclusively on Beatport so grab your copy here!


In addition to this release, there is a release party on the January 25th at Club Noize in Stockholm! Andries Production & Event presents a clubnight for the launch of 'Perseid Jam' and to celebrate Marius birthday as well. To know more about this event just clock on the banner on the side.