Marius Andries & Lily V Nine – Anthem of Apophis Out Now On Beatport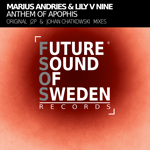 Featured as the 10th release in our main label catalogue, presented as a collaboration produced by veteran Marius Andries and rising talent Lily V Nine we are proud to finally give you 'Anthem of Apophis'!
'Anthem of Apophis' is an intense track which takes the listener into a dramatic and melodious atmosphere. The original composition possesses beautiful, slightly dark but refreshing chords with several uplifting elements. The build of the Original Mix is classy, punchy sounds with an in-your-face-attitude and sound imaging. Rest assure that classic trance will come to mind of the listener upon the ghostly piano which is introduced secondary to the lead, the bassline adds the more characteristic ASOT sound to the track, resulting in a very in the moment melodic uplifter.
Remixwork is done by new faces to our label. J2P Remix keeps several features from the original, reinterpreted in a more commercial approach. Additionally the tempo is lower resulting in big room sounds and atmosphere. Johan Chatkowski Remix starts out rough and pace up with intense acids. Featuring classic progressive electro elements with solid progresion throughout the track.
Originally titled '650', 'Anthem of Apophis' was written and submitted to the ASOT 650 Anthem contest. Despite that the track didn't pull all the way through is was rather successfull and we desided to give it a full proper release. We've kept our eyes open for some remixes as well as a suiting releasedate and now the 'AoA' is available as Beatport Exclusive 'Anthem of Apophis' is trance at it's peak! -make sure to grab your copy here!