Marius Andries – Holographic Out Now On Beatport!
'Holographic' is the sixth release from FSOS Records, and with it we welcome Marius Andries to our roster. Marius, known from his earlier alias 'Pinocchio' and formerly signed to legendary Fluid Recordings, holds an impressive resumé. Exceptional at the time, and today counted as classics, looking through his discography we find tracks like 'Da Da Da' and 'Hypnotized' that both climbed dance charts on multiple continents world-wide, as well as remixes for some of the late 90′s bigger Pop/Eurodisco artists such as E-Type, Corona, 666, Vengaboyz, Solid Base and A-teens.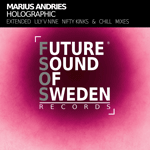 'Holographic' which is Marius first single out on FSOS Records delivers a strong clean old-school theme taking you back to the early 2000's and even late 90's. The track blends trance and progressive with hints of euroesque influences, and is highlighted by a strong melody, progression and a memorable balearic soundscape!
Remixes are in from two Swedish newcomers: Making her debut on the scene, Lily V Nine serves up a fast-paced energetic and melodic 138 uplifter! Nifty Kinks deliver a groovy progressive, electro-influenced tech-housey version of 'Holographic'. Comprised of two well-established producers the Nifty Kinks project won't disappoint anyone! Lastly, we have the Radio Edit, and completing the FSOS006 package, a Chill Mix that comes in the form of an old-school progressive breaks saga.
'Holographic' have now hit the shelf exclusively out on Beatport, grabb your own copy here! To know more about Marius Andries there is a recent quite extensive interview done by Bejbi.se so make sure to check that out!