FSOS Records™ & FSOS HARD™ Label Night Hosted By FSOS Events™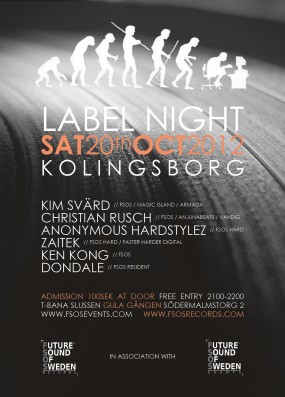 FSOS Records™ and FSOS HARD™ artist are featured in an upcoming event hosted by our own promoter department, FSOS Events™. This events is to highlight Swedish producers who teamed up with us as an label and in their sets that you can expect will contain several released as well as a lot of forthcoming tracks. This is the first label party and we are delighted to say that several other events like this are in the making, all in the near future.
The music that will be available is to be in high variety, genres such as House with Electro influences, Progressive beats all the way to Trance to top of with Hardstyle and Nu-Style. If you are interested to know more about our artists, you can find information about them here on this site.

TIME & PLACE
Saturday, October 20th
21:00 to 03:00
Kolingsborg, Slussen
Stockholm, Sweden
DETAILS
Age 18
Admission 100 SEK (free 21:00-22:00)
FLOOR FILLER SET
Dondale (FSOS Resident)
LINEUP
Kim Svärd (FSOS Records, Magic Island, Armada)
Christian Rusch (FSOS Records, Anjunabeats, Vandig)
Anonymous Hardstylez (FSOS HARD)
Zaitek (FSOS HARD, Faster Harder Digital)
Ken Kong (FSOS Records, D&G Records)
Make sure to not miss this opportunity to be a part of the night, come and join us, support our own Swedish producers as this is the first official performance for several of them. For additional details check out the event page at FSOS Events™ website, just click the poster here above and you'll be directed to the site straight away. See you on the 20th October!
UPDATE:
JamFM.se will be on sight and broadcast our label night event! JamFm is operated by the non-profit Radio PlayFactory.
"Our collaboration with FSOS will be done at three levels and It involves both strengthening of the FSOS brands and increasing awareness of their producers, music and events.
Jamfm.se is to be on the different events that FSOS produce and from there send a Live Broadcast. -This is a great way to increase interest as well as to get others to participate. Furthermore, JAMFM and FSOS are to produce a series of programs with Artists & Producers. -There you will have the opportunity to hear them tell a little about their background and expectations of their future. Joint brand exposure exchange program. -As JamFm will be visible in and around FSOS events we are to expose FSOS in our current stream and sociables with their events and music."