FSOS Records™ artists official press photographer – Jesper Jakobsson and IcePhoto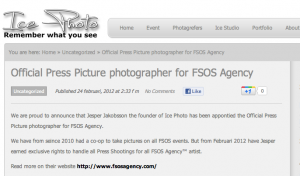 FSOS Agency™ thru FSOS Records™ proudly presents Jesper Jakobsson from IcePhoto.se as our official press photographer, Jesper will be handling all press shootings for all FSOS™ related artist ie artists signed to our agency, label and the live performers. IcePhoto is also one of FSOS Events™ party picture photographer since our summer party back in 2010.
Here you have their official statement and as IcePhoto would say, remember what you see.