Christian Rusch – The Arp Out Now On Beatport!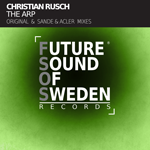 Written after a blog-post by a headliner in the Anjunabeats team, talking about the importance of track names in the new age of digital non-physical releases, the fourth release on FSOS Records, "The Arp", was the first of two tracks written in an attempt to make the most of a very simple concept. Uplifting, driving, and very much in to the point, The Arp delivers an intense journey through rough bass-frills, lush pads, ambient piano landscapes, and its namesake focal-point: the arp. Appropriately premiered at the Luminosity Beach Festival, this is a summer gem in its truest form.
On remix duty are FSOS golden boys Sande & Acler, currently enjoying much success with their latest EP, I Am U Are & Sommár.
For the full details if this release incl. previews press here and you'll be directed to our music archive database. In the database you'll also be able to download artwork for the actual title and all following releases in the future.
The Arp is now exclusively available on Beatport, and for all other major retailers the release date is set to be February 17th.