Bejbi.se official collaboration statements for FSOS REAL™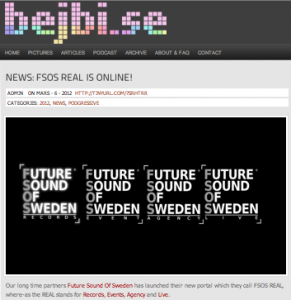 The first official FSOS™ partner Bejbi.se is one of the most comprehensive independent EDM organisation thruout Stockholm and possibly Sweden. Not only the first appealing Swedish webzine but also the host of hundreds of party picture archives from almost every small, midd-sized and major events in Stockholm. Their site also host interviews as well as the Podgressive podcast presented by the DJ and Producer Tatsumi Suzuki.
Bejbi will be one of the biggest partners for the FSOS REAL™ portal in the upcoming future, featuring offers for basically all subsidiaries. For our labels count Bejbi.se will be the site to visit for the exclusive previews for our releases, the agency will have featured articles about our artists, our events division will as always have their photographers on site and the live project has Bejbi's founder and photographer Patric Franksson as our tour photographer. Beside this mentioned bejbi also supports our entire network to share news, progress and statements + some future extra surprises!
Here you have their first official statement.