Anonymous Hardstylez – Swedish Style EP out now on FSOS HARD™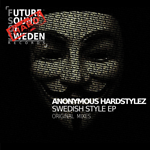 Who would have guessed? The first official release from FSOS Records™ has been launched and it's from our sublabel FSOS HARD™ featuring Anonymous Hardstylez with their 3 track EP, "Swedish Style".
This EP contains the tracks, "Swedish Style", "Hypnotized" and "Summer 2k12".
Swedish Style EP is available for purchase and at this time exclusively through Hardstyle.com. For full detailed release info and track previews visit our releases page here on the site; there will also be full artwork available as downloadable PDF-files containing slipcase covers as well as jewelcase covers with related backslip. All artwork will feature the release info, track length, BPM and Camelot notations. The link to the artwork is also available on the releases page for each track as well as the artwork archives.
The releases page can be found here. Enjoy!