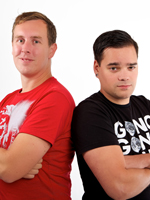 In great many things there is a saying that occasionally is all to true, "good thing comes in two" and that's certainly an understatement when it comes to Sande & Acler
quote
"The story of Sande & Acler actually started way back in 2007 and as clubbers, when we met at different trance parties as we come in to each others social circuits. Time past by and we started to exchange projects files on a regular basis but as many who tried, producing as a duo is always better in real life. We talked a lot about getting together for collaboration sessions to develop and establish what would become the Sande & Acler sound, then came fall of 2011 and finally we where heading into Sande's studio to start the work on our 1st track. After the 2nd studio session we had finished our first 2 track EP. Titled Right Now/Now & Then, it got released on Fusion Four Records.
Since we both like and work in Ableton Live, we found a fast way to work when we originally got together. During this past year and the numerous sessions that past we've also found in what and how we complement each other as producers. For inspiration we listen to music, mostly Progressive House and Trance/Trouce and we're listening after detail and bouncing ideas.
We aim to make 2013 a really great year, with several upcoming release and ongoing project you'll be seeing us during the upcoming year!"